Welcome to Westerhill Farm
Westerhill farm is set into the Greensand ridge, south of Maidstone, with one of the most outstanding views in the South East and Kent   ('the Garden of England') and many film crews have used the location over the years. Not only are the views renownedbut it is one of the most favoured locations, along with other neighbouring farms, for fruit growing in the whole of the UK. The farm grows many fruit crops including apples, pears, plums and cherries with much of this fruit being sold to Waitrose - a high quality supermarket chain.
the pumphouse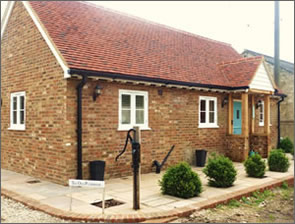 The Old Pumphouse, built in 1900 to serve the fruit growing needs of the Cornwallis family and their vast estate, has been converted to a high standard and, with one  double bedroom and a sofa bed, sleeps 2-4 people with  an adjoining bathroom. A ground source heat pump provides all hot water & under floor heating.  The open plan living/dining room also contains the kitchen and this opens onto an enclosed spacious patio with an oak pergola. The kitchen has a washing machine, dish washer, fridge freezer, cooker and a microwave. All bedding, linen, towels, electricity and heating are included in the price. Next to the accommodation is a tennis court and indoor pool with stunning panoramic views of the Weald of Kent and orchards, belonging to the farm, which includes a fishing lake.
Take a look at the Gallery to view more Images of the pumphouse and local area.
Book appointments for pilates and other treatments at westerhillphysio.co.uk located next to the indoor pool.